Dental Crowns in Denver, CO – Wyte Smiles
Dr. Wyte and his dental team are proud to offer a wide variety of services, including dental crowns in Denver, CO.
What Is A Dental Crown?
A dental crown is a type of cap that is placed over a tooth that is broken to the point that it can't be fixed. It's often a solution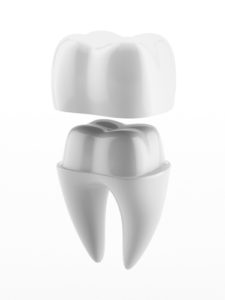 for those who don't want to have the tooth extracted but don't want a broken tooth in the mouth. After the crown is placed, you will have a stronger tooth that functions like one that is natural.
Reasons To Get A Dental Crown
A crown can be placed to protect a tooth that is weak so that it doesn't break any further. It can also be used over a tooth that has a filling, supporting the amount of the tooth that is left. Dental bridges can be secured with a crown. If you have teeth that are misshapen or teeth that are discolored, then a crown is beneficial because it can be designed so that it looks like a natural tooth. Children can get a crown placed to protect a baby tooth that isn't quite strong enough for a filling.
Types Of Crowns
While a crown might sound like it should be made of porcelain, there are other materials that are often used. Stainless steel is commonly used with children. This is the silver tooth that you can sometimes see when you're talking to a child. When the tooth gets loose, the entire tooth, including the crown, can be pulled. Other types of metals that are often used include those that have contents of gold or platinum. A metal crown is usually stronger than other types and can hold up to the biting and chewing activities that occur on a daily basis. A metal crown is an option to consider for the molars since they usually aren't easily seen. Porcelain and ceramic crowns are better options if you want something that looks like a natural tooth instead of one that looks metallic.
Steps For A Crown
The first step in getting a crown is to visit your dentist for an examination. X-rays will be taken to determine the extent of the damage of your tooth. The gum tissue, as well as the area around the tooth, is anesthetized so that you're comfortable while the crown is being placed. The tooth is filed to remove the damaged areas before the crown is placed.
Schedule Your Appointment for Dental Crowns in Denver, CO Today!
If you are interested in learning more about our dental crowns, call 
303-753-9916
 or 
click here
 to schedule an appointment with our 5-star-rated dentist. During your session, our experienced dentist and team will take the time to answer all your questions about our treatments, our office, our flexible payment options, and anything else you may want to know about us! Come to experience Wyte Smiles Family Dentistry and our unmatched patient experience! You will quickly see why people in the Denver, CO area love us!