Veneers in Denver, CO – Wyte Smiles
Dr. Wyte and his dental team are proud to offer a wide variety of services, including veneers in Denver, CO.
When your smile needs a little help, veneers may be the answer to your problems. Veneers are thin pieces of porcelain that are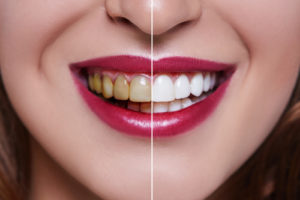 used to create the appearance of perfect teeth. Also, they add strength to enamel. Veneers are customized for each individual patient so that the results look natural.
Who Can Benefit From Veneers?
Veneers can be used to correct a number of mouth problems.
Perfect the Shape of Teeth. When a person has teeth that are too long or wide, veneers can be used to create a more pleasing aesthetic.
Close Gaps. When teeth have spaces between them, veneers can close the gaps.
Misalignment. When a person has teeth that are not aligned correctly, veneers are smart alternatives to braces. They can straighten the look of front teeth or make the mouth appear less crowded.
Better Color. With age, teeth become stained and discolored. Veneers act like masks over teeth. With an application, a person can receive a whiter smile without bleaching.
Advantages of Veneers
The application of veneers is a popular cosmetic dentistry treatment. Veneers bring a number of benefits.
Strong and Durable Construction. Veneers are crafted from a strong porcelain material. This means that they will be durable so that a person can always enjoy his or her favorite foods without worries.
Lifetime. With proper care, veneers can last up to 15 years.
Customized and Natural Results. Each patient receives hand-crafted veneers that fit perfectly over existing teeth. The results appear natural and beautiful.
Resist Stains. The porcelain material resists stains. This means that a person does not have to give up food or drinks like coffee and wine.
The Veneer Application Process
The application process involves a number of steps.
1. Teeth Trimming. The first step is teeth trimming. Since veneers are quite thin, only a small amount of enamel needs to be removed. Many times, it is possible to prepare teeth without an anesthetic.
2. Match Color. A shade guide is used to determine a natural color for the veneers.
3. Impressions. After trimming is finished, teeth impressions are taken.
4. Fitting. After the veneers are fabricated, the fit is perfected.
5. Bonding. When things are all correct, the veneers are permanently bonded into position.
If you feel like veneer application can transform your smile, we will be happy to help. Call us to schedule an appointment today.
Schedule Your Appointment for Veneers in Denver, CO Today!
If you are interested in learning more about our veneers, call 303-753-9916 or click here to schedule an appointment with our 5-star-rated dentist. During your session, our experienced dentist and team will take the time to answer all your questions about our treatments, our office, our flexible payment options, and anything else you may want to know about us! Come to experience Wyte Smiles Family Dentistry and our unmatched patient experience! You will quickly see why people in the Denver, CO area love us!