Night Guards in Denver, CO – Wyte Smiles
Dr. Wyte and his dental team are proud to offer a wide variety of dental products, including night guards in Denver, CO.
What Does a Night Guard Do?
A night guard is a device that keeps the upper and lower teeth from coming in direct contact. The best night guards are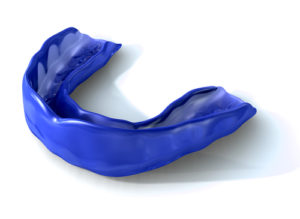 custom fit. Since no two mouths are the same, a customized night guard will fit comfortably, support oral health, and last a long time.
How to Adjust to Wearing a Night Guard
Adjustment to wearing a night guard can take some time. In the beginning, it may feel weird to fall asleep with a foreign object in the mouth. With time, a person should get used to the appliance. It may help to wear it for short periods of time during the day. If it takes longer than a few weeks to sleep well, it may be wise for a person to visit his or her dentist.
Maintaining a Night Guard
It is essential to keep a night guard clean. Proper hygiene will keep necessary bacteria out of the mouth. A night guard should be rinsed each day and dried completely before being stored in a case. Also, a person should bring it to his or her regular dental visits so that his or her dentist can check and make sure that it is still in working order.
Benefits of Wearing a Night Guard
Protected Teeth. With a night guard, a person is not able to grind his or her teeth during sleep. This protects them from being damaged.
Less Pain. Without grinding, a person will wake with less headaches and jaw pain.
Lower Expenses. Although a customized night guard is more costly than an OTC model, it will last longer, lessen irritation in the mouth, and prevent tooth damage. This means that dental bills will be lowered as well.
Schedule Your Appointment for Night Guards in Denver, CO Today!
If you are interested in learning more about our night guards, call 
303-753-9916
 or 
click here
 to schedule an appointment with our 5-star-rated dentist. During your session, our experienced dentist and team will take the time to answer all your questions about our treatments, our office, our flexible payment options, and anything else you may want to know about us! Come to experience Wyte Smiles Family Dentistry and our unmatched patient experience! You will quickly see why people in the Denver, CO area love us!