Meet Our Denver Dentist & Dental Team
Wyte Smiles Family Dentistry wouldn't be able to provide exceptional care without our exceptional team. We work hard to provide our patients with personalized, gentle care to help them achieve a lifetime of great oral health. When you walk into our office, you can rest easy knowing that our friendly care team is committed to taking care of your smile, and you!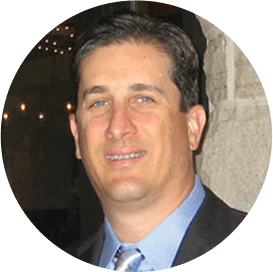 Meet Dr. Joshua Wyte
Dr. Joshua Wyte graduated with a Bachelor of Arts in history from Brandeis University in Waltham, Massachusetts, attended UC San Diego for a Post Baccalaureate, then went on to complete his dental studies at Case Western Reserve University in Cleveland, Ohio.
After serving as an active duty dentist in the Coast Guard for five years, Dr. Wyte built a successful private practice in Loveland, Colorado. He spent four years at his practice in Loveland before moving to Denver and opening his current practice, Wyte Smiles. Wyte Smiles has been serving the greater Denver area for over three years now. Dr. Wyte also continues his military duty by serving as a dentist for the Colorado Air National Guard.
Dr. Wyte believes that treatment should only be done when needed. He also believes that by being proactive, extensive future treatments can hopefully be avoided. In his spare time, Dr. Wyte enjoys skiing, playing tennis, biking, and car racing. Most of all, he loves spending time with his five-year-old daughter, Mia. He looks forward to getting to know you!
Meet the Wyte Smiles Team
Front Desk Coordinators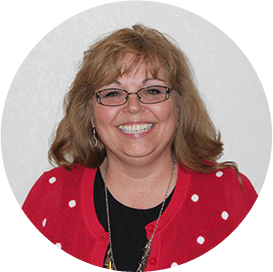 Dee Dee
Hi, I'm DeeDee. I've been with Dr. Wyte for over 4 years. I work at the front desk and love meeting new patients along with familiar faces. I have been in the dental field most of my career. I was a dental assistant for several years, managed another office, and enjoy helping with your insurance questions. I am married with two terrific grown sons. I love gardening, four-wheeling and camping.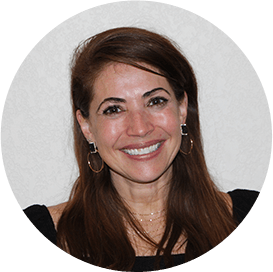 Janet
Hello, my name is Janet and I have been the office manager of Wyte Smiles Dentistry for the past 5 years. I originally grew up in Johannesburg South Africa where I went to college and then moved to the states when I was 27. I have 15 years of dental insurance knowledge and experience and I am always available both in person and on the phone to help with any questions or concerns you may have. I love my job and interacting with different people on a daily basis as well as taking care of the staff, office and building needs. When I am not in the office I am spending time with my wonderful husband and two grown children or you will find me engrossed in a good book, binge watching the latest show, playing pickleball or cooking.
Dental Hygienists & Assistants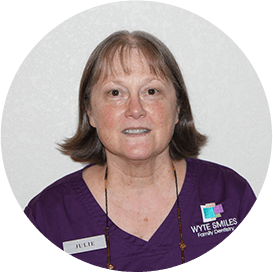 Julie
I'm originally from Florida. I moved to Denver in 2008 and never looked back; I love it here! I've been a dental assistant since 1978 (or for over 35 years). I've been with it this long because I love what I do.