Dental Implants in Denver, CO – Wyte Smiles
Dr. Wyte and his dental team are proud to offer a wide variety of services, including dental implants in Denver, CO.
When you are missing a tooth or multiple teeth, you may be ashamed to smile. You want a permanent way to fill these gaps.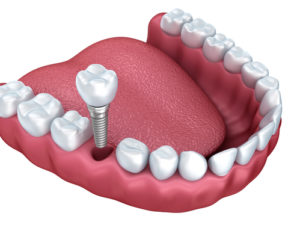 The most common treatment is dental implants. It is essential to understand whether or not this procedure is right for you.
What are Dental Implants?
A dental implant is a false tooth that is implanted directly into the jawbone so that it offers a permanent replacement for a lost tooth. Dental implantation is a common procedure that offers long-term results. Since it provides the natural fit and function of a real tooth, it is a popular treatment option.
What is Involved with an Implant Procedure?
The implant procedure will require multiple office visits to complete. The first part involves placing the implant into the jaw. An implant resembles a screw and will permanently attach to the bone so that you have a stable base for your artificial tooth. The gum is closed, and you will heal over a few months. During the next phase, the implant is exposed, and an impression is taken for the new tooth. An abutment is installed to connect the crown to the implant. After the crown is ready, it is fit into place. The finished result looks like a natural tooth. It is vital to maintain your implant and to schedule regular dental visits. With proper care, an implant can last a lifetime.
Dental Implant Benefits
Dental Implants bring a number of benefits.
Comfort. Dentures may cause gum irritation. Thanks to an implant's permanent placement inside of the bone, this discomfort never occurs.
Enhances Quality of Life. With other dental fixtures, a person may be limited to eating certain foods. Also, a person may need to use messy denture adhesives or appliances that contain metal clasps. This can take a toll on the mouth. With an implant, a person can relax and enjoy a tooth that looks and feels natural.
Keeps Remaining Teeth Healthy. When a person uses a partial denture or a bridge to fill a gap in his or her mouth, destruction often happens to surround teeth. This is not a problem with an implant.
Increases Self-Esteem. With an implant, slipping is never an issue. This means that a person never needs to worry that anything will become loose while talking or eating. Also, an implant looks real, so no one will know that he or she is missing a tooth.
Schedule Your Appointment for Dental Implants in Denver, CO Today!
If you are interested in learning more about our dental implants, call 
303-753-9916
 or 
click here
 to schedule an appointment with our 5-star-rated dentist. During your session, our experienced dentist and team will take the time to answer all your questions about our treatments, our office, our flexible payment options, and anything else you may want to know about us! Come to experience Wyte Smiles Family Dentistry and our unmatched patient experience! You will quickly see why people in the Denver, CO area love us!